KD Bakes Wows Fans at KONA Live with Kacey Moore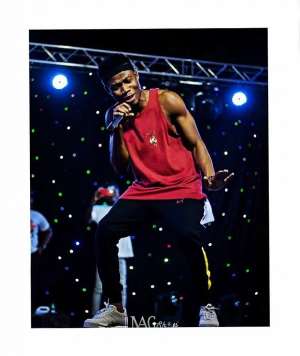 Fast-rising Afrobeats musician,
KD Bakes
has once again left fans in awe and excitement with his electrifying performance at yesterday's edition of
KONA Live with Kacey Moore
.
As usual, KD Bakes mounted the stage amidst cheers and came in company with his customary exceptional energy, artistic delivery, and control which left patrons yearning for more of his sweet melodies.
KD Bakes' performance was preceded by others' including the rapper Kacey Moore who also doubled as the host on the night.
Among other artistes who thrilled fans on the night include; The Man, Eli Six30, Young J, Vybz Styling, Vybz King and Stero Rankin.
KONA Live with Kacey Moore is Accra's favorite weekly Open mic music and entertainment show hosted by dynamic and prolific rapper Kacey Moore in Osu-Oxford Street.
Elsewhere also, Friday's version of Judgement Board with Sammy Flex on Zylofon FM featured the Carry Me Away hitmaker (who I personally call
#theMELODYgod
) where he did what he does best - off the top freestyle for the receptive audience and also capping it with a rendition of the currently trending jam, Carry Me Away.
KD Bakes who last month emerged winner of the StandOut Artiste of the Moment has yesterday been nominated to win the "Youth Music Art of the Year" in the inaugural Youth Awards Awards.